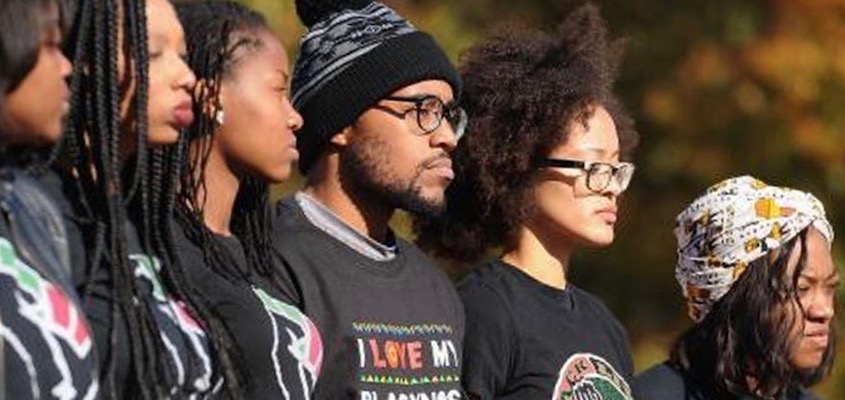 Danny Haiphong, BAR contributor 07 Nov 2018
Black Agenda Report
News, commentary and analysis from the black left.
Donate
Young people in the US are increasingly open to socialism and radical ideas, but less likely to study the science of revolutionary change.
"Neoliberal education and activism in the United States has infected young leftists with an aversion to books and study."
Theory takes a break this week for a special message to young leftists. The Trump Administration has decried socialists as a threat to the United States. Both corporate parties have since 2016 been busy accusing left-leaning young people in this country of complicity in the rise of Trump and the fall of so-called "centrism." The Democratic Party has worked overtime to move the attention of young leftists toward watered down "blue wave" candidates as the establishment attempts to ram through CIA and military intelligence officials into Congress in relative secrecy. It is no secret, however, that the US ruling class is concerned with the growing leftist views of the younger generation.
Polls have shown that so-called "millennials" view socialism in a positive light. Capitalism has failed them, even those white youth who believed that their parents had achieved the (white) American Dream. Millennials are poor. They work for low wages and have few opportunities to build wealth. Home ownership has fallen out of economic reach. Student debt is over a trillion dollars . Young Black Americans are terrorized by the police and forced to attend schools that funnel them into the prison regime . Young Latino Americans are terrorized by the deportation regime . In other words, US imperialism has little to offer a generation that sees no prospects for retirement and is often forced to choose between low-wage work or prison.
Young leftists also face a crisis of consciousness. While leftist ideas are on the rise, the reality remains that those labeled "millennials" know little to nothing about class struggle, Black liberation and anti-imperialism, or the fruits that prior movements won from struggle. After all, many of these fruits are disappearing by way of privatization, austerity, and state repression. Furthermore, the left is without an organized vehicle of the working class and oppressed. COINTELPRO lives on in the FBI's "Black Identity Extremist" files. The general crisis of capitalism has developed many individual activists but few revolutionary organizations.
Of course, youth cannot be considered a class or an oppressed section of society in and of itself. There is great variance in the conditions that young people face depending on their relationship to the means of production and the ruling class structure. During the Obama era, some basic points of unity arose from the Black Lives Matter and Occupy Wall Street insurgencies. One, the police murder of Black Americans is an unjust manifestation of racism. Two, Wall Street has run amok and forced an entire generation into material hardship through student debt and other forms of parasitic finance. Much can be developed these two points of unity.
The ruling class has made sure that the era of Trump has arrested the development of a left insurgency through desperate attempts to invalidate and erase leftists. Bezos and the rest of the capitalist class concocted Russiagate from thin air to lay an imaginary basis for the claim that the radical left and the "alt" right are mere puppets of Putin's campaign to destroy the United States. Trump has been given billions worth of airtime to scare young leftists back into the bosom of the so-called "moderates" of the corporate parties. The "moderate" ruling class promise two things and two things only: austerity and war. These promises represent the only possible fruits of impeaching Trump, regardless of what corporate media pundits have to say on the matter.
This doesn't mean that young people should sympathize with Trump. However, Trump navel gazing should not be allowed to suppress the genuine class demands of the people. Class demands must be brought to the fore regardless of who is President. Questions such as healthcare, jobs, and war ultimately shape the growing rage among much of the population in the United States with the status quo. The job of the young generation is to study this rage, engage with this rage, and organize this rage.
Neoliberal education and activism in the United States has infected young leftists with an aversion to books and study. There are few opportunities for young people to learn history and politics from a revolutionary perspective. On college campuses, coursework tends to ascribe to neoliberal and for-profit imperatives. Professors are promoted based on the volume of research produced and the amount of money they make for institutions rather than the content of their work. Higher education institutions have always been openly hostile to radical ideas, purging professors who become too radical and viciously cutting Black Studies and other departments that were born from grassroots political struggle.
Young leftists seeking to avoid the mistakes of the past and the obstacles of the present must read books. They need to engage with revolutionary ideas just as much as they commit to on the ground struggle. Young leftists must drop the corporate ideology of "diversity" and replace it with the politics of power. They must reject the influence of the education system and the Democratic Party, two forces that have collaborated with the imperialist state to erase the history of revolutionary struggle from popular consciousness. This erasure has been complemented by the development of an anti-intellectual, counterrevolutionary political culture in the heartland of the United States Empire.
"Young leftists need to engage with revolutionary ideas just as much as they commit to on the ground struggle."
I am twenty-eight and attend graduate school for social work, a profession with a long history of collaboration with the forces of social control and oppression in the imperialist world. Social work education speaks highly of its "social justice" roots but does little to teach social workers about the true history of the imperial context from which it practices. The profession leans on liberal notions of race and class as forms of "diversity." As Black Agenda Report's Glen Ford explained on Chris Hedges' On Contact, diversity is a con that erases the complicity of the white liberal and Black misleader ship class in the reproduction of imperialist evils. Social work education has endorsed diversity because it has no answers for austerity, militarism, and the crisis of capitalism. Just like most academics who teach students to normalize imperialism, social workers are trained to further their careers by helping their "clients" adjust to increasingly horrid conditions.
Yet young leftists, even educated leftists, have few career options to further. Social work, for example, offers few economic incentives besides a job (if lucky) and thus must rely on the non-profit industrial complex's obsession with values to distract from its social control function. Studying revolutionary theory and history is one way to combat the mundane and stagnant liberalism of the corporate academy. However, this must be done in conjunction with a search for political and organizational involvement. Here are some critical arenas of struggle that deserve more attention from young leftists:
"Study must be done in conjunction with a search for political and organizational involvement."
Political prisoners: The United States warehouses dozens of political prisoners. Many of these prisoners served the people as leaders of the Black liberation movement of a generation ago. This includes Mumia Abu-Jamal, Leonard Peltier, and several members of the MOVE organization. Political prisoners suffer from a wide array of abuses from the prison regime. Without a movement, they will die in prison. Young leftists who are serious need to get involved in freeing all political prisoners. You can get started through the Jericho Movement here.
War: The U.S. spends trillions around the world to destabilize nations and make the world safe for corporate plunder. War is a permanent feature of a declining capitalist empire. Meanwhile, U.S. military spending not only terrorizes workers around the world but also loots the wages, social services, and taxes of workers in the U.S to pay for it. The Women's March on the Pentagon that occurred earlier in October sought to unite the struggle for women's rights in the U.S. with the cause of women around the world who are murdered and oppressed by U.S. warfare. The Black Alliance for Peace has been organizing to revive the Black Radical Tradition's long history of solidarity with nations under siege from imperialism. Young leftists who are serious need to consider joining one or both efforts.
"Without a movement, political prisoners will die in prison."
Labor: The age of austerity has decimated the labor movement. Many young leftists have never organized or joined a union. Union density is at an all-time low in the United States, which in part explains why wages have declined and poverty has risen over the last several decades. Unions may not offer a revolutionary solution to U.S. capitalism or imperialism, but they must be defended and (re)organized amid the fierce corporate assault against them. Workplaces must remain a primary site of struggle if the left is to ever wage a serious challenge to the capitalist and imperialist establishment.
Independent Media: The crisis of capitalism and imperialism is also a crisis of consciousness. A wave of "leftish" ideas has spread to younger people in the United States. Yet these ideas run the risk of dying at the altar of so-called liberal "identity" struggles born from the university or from the well-endowed graveyard of social movements, the Democratic Party. Young leftists must embrace independent left media like Black Agenda Report. They must create their own media and collaborate with existing independent media institutions to ensure that the ideological maturity of the working class and oppressed masses is given space to develop.
Whatever the case, young leftists must ultimately be drawn AWAY from Democratic Party electoral organizing. Instead, write, join an independent leftist organization, or organize a study group. Map your workplace. This is a difficult period, a period defined by crisis and stagnation. However, as Lenin stated, "there are decades where nothing happens and weeks where decades happen." And as political and economic contradictions in the U.S. and globally become more acute, those weeks may be coming sooner than we think.
Danny Haiphong is an activist and journalist in the New York City area. He and Roberto Sirvent are co-authors of the forthcoming book entitled American Exceptionalism and American Innocence: A People's History of Fake News- From the Revolutionary War to the War on Terror (Skyhorse Publishing). He can be reached at wakeupriseup1990@gmail.com.
"None are more helplessly enslaved than those that believe they are free." Left Wing Books & 60s -70s Memorabilia – We Support the Yellow Vest Uprising – http://stores.ebay.com/fahrenheit451bookstore